Category: Episodes
Full episodes of Military Collectors.
Part two of Bob's trip to the Indiana Military Museum. In this episode you'll see Jim Osborne's famed 1831 Harpers Ferry flintlock his dad gave him when he was 8 years old that started it all. Plus, see more of this incredible collection including the rolling stock, aircraft and submarine.
---
Bob interviews Jim Osborne who has amassed one of the largest and most and extensive military collections of any individual. The collection is so large it has now become it's own 14 acre museum complex in Vincennes, Indiana. Even two shows do not do this museum justice! Watch and get just a small sample of … Continue reading "Indiana Military Museum Part 1"
---
On this show, Bob visits "The Price of Freedom Museum" in China Grove, NC (North of Charlotte on I-85). This is a vast and unique collection of World War II and military memorabilia that got it's start in a service station. You don't want to miss this story and a peek at what the collection … Continue reading "The Price of Freedom Museum"
---
Part two of Bob's trip to te MVPA Convention in Louisville KY. In this special episode, Bob talks to two World War II veterans about their experiences. First Tom Grasser, talks about landing on Omaha beach with his WC54 Ambulance. Then Bob listens to Melvin Richardson tell about his experience in the Seabees throughout the … Continue reading "MVPA Convention – 2018 Part 2"
---
This is part one of Bob's visit to the 2018 MVPA Convention in Louisville Kentucky. In this episode, Bob talks with the new president of the MVPA and get's his take on the organization. This year's emphasis is on World War I vehicles and Bob interviews a special "hands on" restorer of a World War … Continue reading "MVPA Convention – 2018 Part 1"
---
Bob continues his visit to the Sam Werner Military Museum in Tennessee with more vehicles including a look at the rare Mighty Mites that were a collecting passion of Bud.Bob also gives an update on his current restoration of a 1942 Dodge WC-53 Carry All.
---
We're in Monteagle, Tennessee at the Sam Werner Military Museum taking a look at a large collection of military vehicles and artifacts. This is part one of a two show visit. Also, we'll answer a question from a viewer about Japanese Military helmets as collectables. Then Bob shows off the latest addition to his collection, … Continue reading "Sam Werner Military Museum – Part 1"
---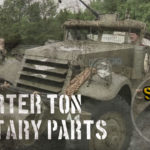 Bob travels to Chickamauga, Georgia to visit Matt Fox at Quarter Ton Military Parts. Matt turned his passion for military collecting into a full time business, helping others find those unique and rare items they may need to finish a restoration. In this episode, Bob will highlight some of Matt's personal collection and we'll even … Continue reading "Quarter Ton Military Parts"
---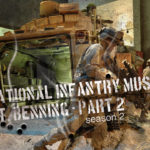 Bob continues his visit to Ft. Benning with a stop at Patton's Park and the National Infantry Museum. Plus gets an answer to a viewer question about the M1 Abrams tank. Season 2, Episode 8
---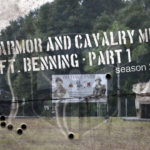 The National Armor and Cavalry Heritage Foundation's mission is to serve as a monument to all the many American mounted warriors around the world. They strive to collect their stories, to preserve them so that they forever become, not just a part of Army history, but a part of American history. Season 2, Episode 7
---